January 1, 2011 Movie News




email this story to a friend


January 2, 2011 Movie News




email this story to a friend


January 3, 2011 Movie News


Americatown





Country Strong




Season of the Witch




The Absent




Vanishing on 7th Street


Violent Blue





Studio Weekend Estimates (Domestic)

| Fri, Dec. 31 - Sun, Jan. 2 | Weekend | Total |
| --- | --- | --- |
| Little Fockers | $26,300,000 | $103,190,905 |
| True Grit (2010) | $24,500,000 | $86,765,010 |
| TRON: Legacy | $18,306,000 | $130,853,871 |
| Yogi Bear | $13,000,000 | $66,130,000 |
| The Chronicles of Narnia: The Voyage of the Dawn Treader | $10,500,000 | $87,141,297 |
| Tangled | $10,008,000 | $168,026,895 |
| The Fighter | $10,000,000 | $46,388,707 |
| Gulliver's Travels (2010) | $9,100,000 | $27,228,794 |
| Black Swan | $8,450,000 | $47,370,093 |
| The King's Speech | $7,649,164 | $22,806,942 |

email this story to a friend


January 4, 2011 Movie News




email this story to a friend


January 5, 2011 Movie News




email this story to a friend


January 6, 2011 Movie News




email this story to a friend


January 8, 2011 Movie News




email this story to a friend


January 9, 2011 Movie News



email this story to a friend


January 10, 2011 Movie News


Barney's Version





Burning Palms




Cameraman: The Life and Work of Jack Cardiff


Every Day




I'm Dangerous with Love

Le Herisson (or The Hedgehog)

Les Amours Imaginaires (or Heartbeats)


Love, Lust and Lies




Mama, I Want to Sing!




Ong Bak 3




Plastic Planet





Repo Chick




Sinking Sands




The Dilemma




The Green Hornet




The Hunter



The Idiotmaker's Gravity Tour


The Heart Specialist




The Japanese Wife




Twelve Thirty





A Somewhat Gentle Man







Studio Weekend Estimates (Domestic)

Fri, Jan. 7 - Sun, Jan. 9
Weekend
Total
True Grit (2010)
$15,000,000
$110,430,022
Little Fockers
$13,800,000
$124,000,515
Season of the Witch
$10,726,000
$10,726,000
TRON: Legacy
$9,803,000
$147,925,418
Black Swan
$8,350,000
$61,455,493
Country Strong
$7,300,000
$7,437,289
The Fighter
$7,000,000
$57,844,442
The King's Speech
$6,811,400
$33,293,658
Yogi Bear
$6,810,000
$75,605,521
Tangled
$5,200,000
$175,868,398


email this story to a friend


January 11, 2011 Movie News




email this story to a friend


January 12, 2011 Movie News




email this story to a friend


January 13, 2011 Movie News




email this story to a friend


January 14, 2011 Movie News




email this story to a friend


January 15, 2011 Movie News




email this story to a friend


January 16, 2011 Movie News




email this story to a friend


January 17, 2011 Movie News


Applaus




Bellflower




Dhobi Ghat




Risen




Senna




The Company Men


 

The Way Back




to.get.her




The Housemaid




Studio Weekend Estimates (Domestic)

Fri, Jan. 14 - Sun, Jan. 16
Weekend
Total
The Green Hornet
$34,000,000
$34,000,000
The Dilemma
$17,400,000
$17,400,000
True Grit (2010)
$11,200,000
$126,411,895
The King's Speech
$9,070,000
$44,593,859
Black Swan
$8,125,000
$72,993,358
Little Fockers
$7,100,000
$134,186,025
TRON: Legacy
$5,674,000
$156,912,596
Yogi Bear
$5,345,000
$82,095,072
The Fighter
$5,125,000
$65,769,664
Season of the Witch
$4,500,000
$17,997,739



email this story to a friend


January 18, 2011 Movie News




email this story to a friend


January 19, 2011 Movie News




email this story to a friend


January 20, 2011 Movie News





email this story to a friend


January 21, 2011 Movie News




email this story to a friend


January 22, 2011 Movie News




email this story to a friend


January 23, 2011 Movie News



Trailer: James Wan's INSIDIOUS Horror Film



Back in September, we got to see a short clip from the upcoming INSIDIOUS horror film, starring Patrick Wilson and Rose Byrne. Today, we have an official teaser trailer. Check it out below.

Plot: When proud parents take possession of an old house, an accident results in one of their sons falling into a coma. The tragedy doesn't stop there when they are beset by vengeful spirits from another realm.

The new movie is directed by SAW creator James Wan, who re-united with SAW writer Leigh Whannell. On top of that, it is produced by Oren Peli, the man behind PARANORMAL ACTIVITY. It has already appeared at the Toronto Film Festival and is now scheduled to hit theaters on April 1st.




"Wonder Woman" TV Series Picked Up by NBC



Back in October, David Kelly ("The Practice") revealed that he was hired to write and produce a new "Wonder Woman" TV series. Then earlier this month Warner Bros TV tried to give the project a home, but all networks passed on it.

The studio promised to not give up and their persistence paid off. NBC has officially picked up the series and has ordered a pilot. But why would NBC pass on "Wonder Woman" only to pick it up a week later? It turns out that the network had a massive regime change recently and the new executives like the idea of seeing the character on the small screen.

These new execs don't even mind WB's very expensive license fee that most broadcasters simply cannot afford. Since

Robert Greenblatt

is now the new chairman, NBC believes he can do for "Wonder Woman" what he did for "Dexter" and "Weeds."




Buddy Ebsen Could Understand



WINTER'S BONE star Jennifer Lawrence suffered for her art on the set of the new X-MEN prequel FIRST CLASS - she had an allergic reaction to the body paint that turned her into mutant

Mystique

.

A skin doctor was called to the set when the pretty star broke out in rashes and boils when the blue paint was applied to her skin. "I got a couple of things from the paint, like weird boils, rashes and blisters... and a doctor had to pop them."

But once that scare was taken care of,

Lawrence

really began to realise what she had signed up for - months of daily make-up misery.

She explains she spent up to eight hours in the make-up chair every day.

She adds, "Nothing's sacred anymore. Those girls (make-up assistants) and I got so close. They were painting me naked every day for months. It was kind of like going to a really bizarre sleepover."


Watch Mr. Spock say

Fascinating!

46 times in 91 seconds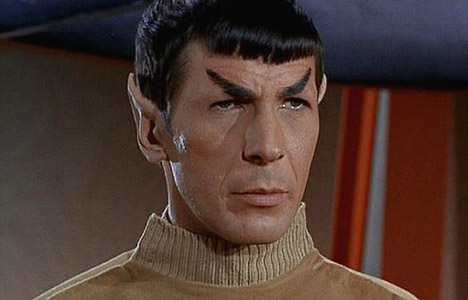 Now in the "People With WAY Too Much Time on Their Hands" Department...

Mr. Spock's use of the word "fascinating" has always been ... fascinating. So fascinating that someone has cobbled together a 91-second clip collecting 46 such interpretations.

Check it out below, and maybe you'll say "fascinating" too.





Don Cheadle Thinks A Writer Has Been Hired For The WAR MACHINE Spin-Off



Back in November there was a report that Marvel was planning a spin-off for the

Iron Man

character

War Machine

. According to the story, the studio was putting out a pitch to writers the script the film, but we haven't heard anything about it since...until now.

IRON MAN 2 star Don Cheadle at the Sundance Film Festival, where he's promoting his newest film, The Guard, revealed that forward progress has been made with the project. According the

Cheadle

, Marvel is currently working on the project and he "thinks" they hired a writer, though he doesn't seem to know who. When asked about the possibility of the character showing up in Joss Whedon's AVENGERS, however, he seemed much more confident, saying, "I don't think [

James Rhodes/War Machine

] shows up in that."

Frankly, the biggest thing to take away from this story is that

Cheadle

seems to be totally out of the loop when it comes to upcoming Marvel projects, though the lack of

War Machine

in The AVENGERS would explain why he wasn't on stage at last year's Comic Con. This concept seemingly goes all the way back to last February, when the actor said flat out that there wouldn't be a spin-off. Perhaps somebody should clue him in - I really don't want to see a third person play

On a personal note, this reporter has a sort of kinship with james Rhodes. We're both from South Philadelphia, and possibly from the same neighborhood. I remember one flashback he had were he was standing under the 25th Street Bridge.



email this story to a friend


January 24, 2011 Movie News


Blackmail Boy




From Prada to Nada



Prowl

Scalene

Splatter: Love, Honor and Paintball

The Mechanic

The Natural State of America

The Rite

Seconds Apart

too perfect


Yip Man 2: Legend of the Grandmaster

Zenith






Studio Weekend Estimates (Domestic)

| Fri, Jan. 21 - Sun, Jan. 23 | Weekend | Total |
| --- | --- | --- |
| No Strings Attached | $20,300,000 | $20,300,000 |
| The Green Hornet | $18,100,000 | $63,441,243 |
| The Dilemma | $9,700,000 | $33,337,335 |
| The King's Speech | $9,164,299 | $58,623,270 |
| True Grit (2010) | $8,000,000 | $138,633,427 |
| Black Swan | $6,200,000 | $83,580,631 |
| The Fighter | $4,515,000 | $73,031,236 |
| Little Fockers | $4,400,000 | $141,191,615 |
| Yogi Bear | $4,060,000 | $88,890,203 |
| TRON: Legacy | $3,708,000 | $163,267,490 |





email this story to a friend


January 25, 2011 Movie News




email this story to a friend


January 26, 2011 Movie News




The Oscar Nominations Are In!



Last night, we gave you the Razzie nominations. Tonight we give you the nominations for that ...other awards ceremony.
The 83rd Academy of Motion Picture Arts and Sciences - The Oscars will be held on Sunday, February 27th, 8pm/5pm Pacific Time at the Kodak Theater at the Hollywood and Highland Center in Hollywood, Los Angeles.

The list of categories and nominees would take up the entire news feed for today, leaving out all the other pertinent news. Instead, here is the link to the Oscars site. Aside from the viewing all the categories and nominations, the Oscars site gives you the opportunity to review your favorites and make your own selection to compare. You can see if the Academy agrees with your selections.


The HUNGER GAMES Gets A March 2012 Release Date

Thanks to a ravenous readership of the book series by Suzanne Collins, The HUNGER GAMES is one of the most hotly anticipated projects currently in development. Set to be directed by Gary Ross, there has been much conversation about which young actress should play the film's protagonist, Katniss Everdeen. Sadly, I can't deliver that news at this time, but I can tell you when the movie is set to come out.

Lionsgate has officially given The HUNGER GAMES a release date of March 23, 2012. The date puts the movie right in between the Jonah Hill-scripted adaptation of the television show "21 Jump Street" and the Jonathan Liebesman-directed sequel to CLASH of the TITANS, WRATH of the TITANS. The studio helps to be boosted by both spring break and the Easter holiday, as the fanbase of the books is primarily teenagers. In the books, an annual, televised event is held in the future where young children are forced to battle to the death.


Which Member of the Fantastic Four Just Got Killed? No Spoilers!

One of the Fantastic Four just journeyed to Marvel Heaven, where characters go to their not-so-very-final resting place. But which one of them died to turn the Fantastic Four into the Three?

No, I'm not telling! Sorry, Alpha Craig, You'll have to buy that issue (As if I thought you wouldn't)

It turns out Marvel has been planning this for two years—and that's just the first step in a grander scheme. Comic Book Resource writes:

"Jonathan Hickman [writer of Fantastic Four] came to us two years ago with a vision for evolving the characters and concepts introduced to fans 50 years ago in Fantastic Four #1—and quite frankly his vision blew us away," said Tom Brevoort, Marvel Entertainment SVP of Publishing. "This death is the first major move in this incredibly exciting evolution of the legendary Fantastic Four franchise and a necessary part of the larger story we will be telling featuring the beloved characters moving forward."

In fact, this isn't the only death: the Fantastic Four will be ending as of issue #588.

There is no news as to what will become of the surviving characters, but we're guessing they'll form a new group (and a new comic), the Fantastic Three.

As we know, comic-book death isn't the same as real death; even Superman has died and returned. Will there ever be a fantastic Four again? Marvel editor Tom Brevoort isn't saying. But he did tell CNN:

"It's very easy to develop cynicism about the stories we tell," Brevoort added. "The only way to combat and conquer it is to have a story that touches on the humanness of people that has emotional resonance and truth to it. The fact of death is something every human being can relate to. I would argue that a well-told story of a character's demise is not necessarily undone by them coming back later."


The New Poster for HANNA

Focus Features has debuted the new poster for director Joe Wright's HANNA, the suspense thriller opening in theaters on April 8.

Raised by her father (Eric Bana), an ex-CIA man, in the wilds of Finland, Hanna's (Saoirse Ronan) upbringing and training have been one and the same, all geared to making her the perfect assassin. The turning point in her adolescence is a sharp one; sent into the world by her father on a mission, Hanna journeys stealthily across Europe while eluding agents dispatched after her by a ruthless intelligence operative with secrets of her own (Cate Blanchett). As she nears her ultimate target, Hanna faces startling revelations about her existence and unexpected questions about her humanity.

Click the poster for a bigger version!

The Geekiest, Nerdiest, Awesomest Imaginary Battle Ever Filmed

Who needs XBox Kinect?

What happens when two videogame-loving dudes desperately want to beat each other to a pulp but can't find a weapon to do the deed? In this steeped-in-sweetness, occasionally profane, mildly NSFW short film, they make them out of thin air. Literally.

It's kind of amazing what you can accomplish with a pair of particularly limber actors, some decent image-processing software, and a sound-effects library. Who needs props when you've got pretend?

Near as I can tell, Ode to Action's director, James Chen, dropped references to "Halo," "Gears of War," STAR WARS, TERMINATOR 2, and DESPERADO ... but I may be missing a few. What did you hear that I didn't?



Don't forget to vote on The Flicker Awards. Click the link below


email this story to a friend


January 27, 2011 Movie News



email this story to a friend


January 28, 2011 Movie News




Viggo Mortensen and Kristen Stewart in SNOW WHITE and the HUNTSMAN
Michael Fassbender (INGLOURIOUS BASTERDS) seemed like a lock for Universal Pictures' upcoming SNOW WHITE and the HUNTSMAN, but he instead decided to join Ridley Scott's ALIEN prequel. Viggo Mortensen (The ROAD) has stepped in to replace him.

In this new version of the Grimm fairy tale, the
Huntsman
(who, in the original story, is supposed to kill
Snow White
but ends up letting her go) becomes her protector and a mentor as they try to escape from the evil queen who ordered her death.
Charlize Theron
is in talks to play the queen.
The studio has fast-tracked the project since it's competing with several other SNOW WHITE films that are currently in development. And now that
Mortensen
is on board, it's time to cast
Snow White
. Universal has been searching for an unknown actress to take the role, but has now offered it to
TWILIGHT
star
Kristen Stewart
.
The film is set to shoot sometime this summer for a December 21, 2012 release.
Ice Cube And Ryan Seacrest Joining New Year's Eve Party
Last month the movie
HOW DO YOU KNOW
made headlines when it was revealed that the film had a $100 million budget with half of it going to pay the star's salaries (
Reese Witherspoon
alone took $15 million). I sure hope that the studio behind New Year's Eve isn't dealing out that kind of dough or there will be bankruptcy news coming soon.
Following this morning's announcement that
Josh Duhamel
was joining the cast,
Ice Cube
and
Ryan Seacrest
are also in negotiations to join the ensemble film. In the film,
Cube
will play an NYPD officer who works with the "director of the Times Square festivities", played by
Hilary Swank
; and
Seacrest
will cameo as himself. Bridging from this morning's news,
Duhamel
will play a romantic trying to get to a party so that he can reconnect with a mystery woman he met the previous year.
For those keeping track, the full cast list for the film includes
Robert De Niro
,
Hilary Swank
,
Halle Berry
,
Sienna Miller
,
Abigail Breslin
,
Michelle Pfeiffer
,
Sofia Vergara
,
Jessica Biel
,
Zac Efron
,
Ashton Kutcher
,
Lea Michele
,
Sarah Jessica Parker
,
Jon Bon Jovi
,
Til Schweiger
,
Seth Meyers
,
Duhamel
,
Cube
and
Seacrest
. Something tells me that they're going for a strategy that sounds something like quantity of actors over quality of story.
P.S. How do you think N.W.A.-era Ice Cube would have reacted to news of being cast in the same film film at the same time as a guy like Ryan Seacrest?
Cattrall Wants Wore 'Sex,' Happy with Razzie Nod
Despite a barrage of bad reviews and pair of Razzie nominations,
SEX and the CITY
star
Kim Cattrall
is hopeful for another installment in the TV and film franchise.
The 54-year-old actress says she's glad the Razzies exist because "it keeps you honest." She hasn't been approached for a third film yet, but she says she believes the fan following is still strong.
Cattrall
and her co-stars —
Sarah Jessica Parker
,
Kristin Davis
, and
Cynthia Nixon
— share a Razzie nod for worst actress for
SEX and the CITY 2
." The film is also up for worst picture.
The TWILIGHT SAGA: ECLIPSE
and
The LAST AIRBENDER
lead the nominations with nine each.
William Shatner sings ... Black Sabbath????
Just in case your ears don't bleed enough....
At this point in human civilization, "Shatner" needs to become a verb. What does it mean to "Shatner" a thing?
Until the brainiacs at the OED can come up with something better, how about: "
The process by which one can transform a pre-existing cultural artifact and thus make it at once retro yet infused with a hipster sensibility that is trendy to the unique picosecond in which it is transformed."
Priceline comercials, lounge-lizard takes on
Elton John's
"Rocket Man," cop dramas in the form of
T.J. Hooker
, lawyer dramas, even Twitter feeds have been Shatnered into the sitcom "Sh*t My Dad Says." Now
Shatner
is working with shredmeister/guitar god
Zakk Wylde
, former axe-man for Ozzy and Black Label Society, on a new album to come out later this year called "Seeking Major Tom," a collection of rock covers for which the former
Captain Kirk
will be doing vocals.
Which rock standards? Well, according to the guys at FEARnet, one of the songs will be Black Sabbath's "Iron Man." Another will be Queen's "Bohemian Rhapsody." We can only assume that, given the album's title and the outer-space-defined career of
Shatner
,
David Bowie's
"Space Oddity" and "Ashes to Ashes" might be candidates for Shatnering, too.
Check out the video below, for footage of the laying down of tracks for
Shatner's
version of "Iron Man."
Not since Quebec's greatest son gave voice to the absinthe-soaked spleen of
Charles Baudelaire
on the 1968 album "The Transformed Man" have the frail organs of human hearing been faced with such an awesome prospect of Shatner-esque magnificence.
So what do you think? Will this album eclipse forever the legacies of Leonard Nimoy's "The Ballad of Bilbo Baggins," or his cover of "Proud Mary"? Or will this just be a curiosity, like Paul Anka's Rock Swings album, which featured, among other things, a cover of Nirvana's "Smells Like Teen Spirit"? Or will it be destined for bargain bins along with Pat Boone's In a Metal Mood: No More Mr. Nice Guy, which featured covers of Ozzy's "Crazy Train" and Deep Purple's "Smoke on the Water"?

email this story to a friend


January 29, 2011 Movie News



| | | | | | |
| --- | --- | --- | --- | --- | --- |
| Year | Price | | | | |
| 1948 | 0.36 | 1982 | 2.94 | 1996 | 4.42 |
| 1954 | 0.49 | 1983 | 3.15 | 1997 | 4.59 |
| 1958 | 0.68 | 1984 | 3.36 | 1998 | 4.69 |
| 1963 | 0.86 | 1985 | 3.55 | 1999 | 5.06 |
| 1967 | 1.22 | 1986 | 3.71 | 2000 | 5.39 |
| 1971 | 1.65 | 1987 | 3.91 | 2001 | 5.65 |
| 1974 | 1.89 | 1989* | 3.99 | 2002 | 5.8 |
| 1975 | 2.03 | 1994 | 4.08 | 2003 | 6.03 |
| 1976 | 2.13 | 1988 | 4.11 | 2004 | 6.21 |
| 1977 | 2.23 | 1993 | 4.14 | 2005 | 6.41 |
| 1978 | 2.34 | 1992 | 4.15 | 2006 | 6.55 |
| 1979 | 2.47 | 1991 | 4.21 | 2007 | 6.88 |
| 1980 | 2.69 | 1990 | 4.22 | 2008 | 7.18 |
| 1981 | 2.78 | 1995 | 4.35 | 2009 | $7.50 |
| | | | | 2010 | $7.89 |
Check Out Our Facebook Pages
email this story to a friend


January 30, 2011 Movie News




email this story to a friend
View the Movie and Entertainment News Archive
Mike Thomas Mike Thomas is a "child" of the Fifties with a respectable VHS and DVD inventory and watches movies on cable in lieu of reality shows and news programs. And I try to avoid anything from Entertainment Tonight.



Ben Larson is an avid film buff that watches everything from Almodovar to zombies. He is fascinated with the trivia surrounding the entertainment industry and the lives of the people that form it. He wants to keep you informed so you can make a good decision on what to watch and what to avoid.


Tim Malcolm is a news editor searching for any sequels, remakes and Tom Sizemore articles. He spends hours a week (more then he wants to admit) searching the web for the most entertaining and accurate sources to save you time. Keep coming back as you never know what he will dig up in the movie world!