I've been a bit scatter brained lately, and seeing as how I wasn't able to get back to my wanted interviewee in time to get a response ready for posting this go-around, I thought I'd take a moment to explain what I've been up to.

My daughter is a big fan of the Ventura County Derby Darlins, our local Roller Derby team which was started up here last year. The trend of the roller derby died down and most of our rinks closed around in the VC, so hearing that there was a new uproar, I myself was excited. We've become a set of hard-core fans and our newly adopted male figure in our O'hana has been drug along.

I mention all of this because one of the original Darlins, Carebear Havoc (real name: Charena O'Dell) posted a bulletin on MySpazz about a week and a half ago about how her mother, currently in treatment for Stage 3 Lung Cancer and Stage 4 Bone Cancer (**Click to read about it here.**). With Charena in the VC and her mom in Texas, she was really feeling bad about being so far away and unable to help with the after-effects of weekly 5 hour long chemotherapy treatments.

So she decided to get a wig made for her mother, cutting off all of her long, beautiful blonde hair in the process. With her mom living out the last few years of her life on continual chemotherapy treatments, her hair will never grow back in. This was Charena's gift of dignity to her mother.

Knowing how well all the girls in the VCDD treat my daughter, welcoming her into their group pictures, signing all of her team cards, and basically serving as exceptional rol(l)e(r) models, I knew I wanted to help. I've been bulletining over at MySpazz like crazy, writing blogs, writing updates about the funds progress, participating in car washes (mad props to Miss Alley Crash #6 for getting that thrown together) and I took a risk in calling the local morning radio DJ that I've befriended, seeing if there was anything that she could help with.

Trace Nealy, that morning show goddess/DJ got other DJs involved and a great auction was held on eBay where you could win a night out with the station's bald DJ, Maverick, to see a show with a bald singer: Chris Daughtry. Almost $250 was raised from that auction. Between all of the donations through PayPal, the car wash and the funds raised for Charena from her co-workers, she's managed to get approximately $1350 (as of 03/31/08) of the $1800 that she needs for that custom made wig.

This is real life drama. Stuff that movie executives like to mine in hopes of connecting with women who have gone through similar trials. Cancer, death, mother and daughter love and devotion and sometimes psychological reconciliation are fodder that keep Kleenex tissues and Hollywood in business.

This might seem crass, but what else would you expect from me when I've got to throw something together at the last minute and the only thing on my mind is what I've been working my tail off on? The crassness I'm referring to is that I'm going to list my Top Ten Favorite Mother-Daughter death from disease/cancer/tragic accident Movies. Too bad that wouldn't fit as the title of the article.








10) THE FAMILY STONE (2005)




All in all, I really didn't like this movie. It tried to fit in too much, made all of the answers easy and left everyone with a somewhat happy ending. But it features a large portion of a great turn by Diane Keaton as the hard-nosed mother of a large clan of children. She is a perfectionist who managed to continue her career, keep close tabs on everyone in the family and set high standards that most of her children can reach and if they didn't, she damn well found someone else to blame it on. This movie tries to pull for heartstrings and mostly fails until you understand that the holiday being celebrated will most surely be this woman's last, and that even if she is a pain in the ass, she did the best she personally could as a mother, as shown in the lives and careers of her crazy clan.








9) ONE TRUE THING (1998)




Another perfect mother who manages to raise two great children, one of which is Zellweger's high-profile career driven daughter, this woman was the polar opposite in personality to Keaton's character. When coming home to help give her mother the care that she needs during treatment, Zellweger finds out more than she cares to know about her college professor father, someone that she lost respect for (and her mother in the process for putting up with it) when she found out that he was having affairs with his students. There is a twist to this movie that you don't see coming. That's even if you can make it to the end. I used to see everything that Zellweger did back in the theater, I wanted to support her so much in her earlier years, but this movie is definitely the highlight of depressing. However, the twist is a beautiful one and only the luminescent and unparalleled Meryl Streep could have pulled it off.








8) STEPMOM (1998)




Depressing cancer stories abounded in '98, apparently. Nah, this one is less depressing. And it also features one of the best actresses of the past 30 years rescuing it from being a complete saccharine mess, the gorgeous Susan Sarandon. The movie tries to focus less on the cancer at the request of the mother (Sarandon) and more on the rift between her, her children, her ex-husband and his new love interest, played too happily (most likely faking all of it for the grand paycheck) by Julia Roberts. In Sarandon's character choosing to celebrate her children and die as quietly as she possibly can, in some kind of effort to fade away until she's no longer in the picture, you feel for her. With every kiss, she tabulates behind her eyes how many she has left. She is hurt when she feels the new wife gets to share in the victories of her children while she's still around. After all, she's dying. Shouldn't the last moments all belong to her? (Can't say I wouldn't feel the same way.) This movie does suffer from being "too major studio" and desperately clawing at you for your emotions at times, but overall, it's saved by Sarandon in her consistently terrific manner.








7) IN THE LAND OF WOMEN (2007)




To me, this was an underrated gem last year, sold poorly with posters that alluded to a teenage girl (Kristen Stewart) falling for the mid-twenties floater who moves in with his grandmother to get away from the pain of a bad break-up. (The poster shows the one kiss that is thrust upon Adam Brody as the floater with Stewart.) In reality, this turned out to be a movie about the loneliness of being a mother who is unappreciated for all the work she puts out, leaving much of her own desires behind for the sake of her children. Her teenage daughter hates her because she knows about an affair that her father is having with another woman and isn't getting mad or "doing" anything about it. For me, this touched a place in my heart as a mother that society puts on you, making you feel like if you don't bend over backward for your children, you're a demon and if you don't want to rock the boat, even for the sake of keeping people from drowning, you're even worse. Meg Ryan is a surprise in this flick, making you want to go home and hug your mommy afterward, even if yours never had to suffer the indignities of cancer treatment.








6) THE JOY LUCK CLUB (1993)




While in the movie, the death of June's (actress Ming-Na) mother isn't highly played into, it is assumed that she died from cancer or some other fatal disease. But this is the mother of all reconciling with mother's deeds of the past and daughters deeds of the future. I briefly skimmed the book when I was in high school (it was the highlighted book for the academic decathlon and I just didn't have the patience to deal with the other people involved) and remember watching the movie and liking it when it was first released. But in 1993 I was still just a daughter who had issues with her mother. Once I watched it again, after becoming the mother to my own daughter, the story changed in depth for me. And I bawled even harder the second time around, because understanding from both sides of the fence made the movie that much deeper for me, even though I'm not even a mini-fraction Asian.








5) PIECES OF APRIL (2003)




I watched this around the time that the beginning of the Tom-Kat thing was going on. I wanted to look back and see if the girl had anything other than a fantastic rack to redeem herself (Katie Holmes does breast revelations in the film THE GIFT, for those not in the know). The movie proves less to be about Katie's character (of course) than it is about the rest of her family, on their way to visit for Thanksgiving, including her hapless father played by Oliver Platt and her unrelentingly bitter mother, played to acute perfection by Patricia Clarkson. Smoking marijuana with her teen son along the way (with instructions to "roll it tighter next time") to alleviate some of her nausea, whipping out insults at lightening fast pace at the daughter that she hasn't even reached yet and terrorizing a family who is already in terror over her cancer, the ultimate ending is the one that you hope for. No grand gestures, no sweeping changes of heart. Just a little give on each side by mother and daughter. Because it only takes just a little to make a whole lot of hurt all better.








4) ERIN BROCKOVICH (2000)




What people tend to forget when they think about this movie is that it wasn't just about Julia's Oscar (hello, Oscar politics, once again!) or the real-life woman that the film is based on. It wasn't even about the fact that portions of it (the home used as hers in the film was up the road from where I was living at the time it was filmed) were shot in Ventura, California, my place of residence. The real story behind this film is that the real Erin Brockovich managed to bring some closure to a whole lot of people who were suffering from miscarriages and various forms of cancer. People who had been poisoned at the complete disclosure of the company who was willingly poisoning them. For me, watching this movie isn't about any of the silly show-boating shenanigans of Roberts playing up her padded cleavage, it's about the look on Marge Helgenberger's character's face when she's read the results from the legal suit. After wondering if her daughters were going to end up in a similar fate that she was going through (cervical and ovarian cancer, if I remember correctly), it is her face that makes all of the work that Brockovich did, many times at the expense of her own children, that sells it.








3) THE PRIZE WINNER OF DEFIANCE, OHIO (2005)




It's been a little while since I've watched this movie, but the heart of it sticks with me. Back in the day when contests weren't random and you had to actually cash in on creativity or talent to succeed, one woman, the mother (Julianne Moore) of an Irish-Catholic brood of 10 children and an alcoholic husband who would drink up his paycheck before making it home from work, made up jingles and catchy slogans to help keep her family afloat. Her children were in absolute awe of their mother, all of them going off to eventually become successful college graduates, police officers, nurses and one even wrote the book that this movie is based on. While you're pressed to hate the bumbling father, played to heart-wrenching perfection by Woody Harrelson, I at the very least couldn't, because his character reminded me too much of my grandfather. He was also a bumbling fool who my grandmother had to cut off at the pass on payday in order to make sure the mortgage got paid. But this film represents the extreme bond of love between a mother, her children, keeping her family moving and motivated, her husband from falling to pieces and herself from losing her identity. There is not a great focus on her death, just her life. Moore is exceptional in this and it is a great pity that long titles often keep great movies from getting more attention.








2) MY LIFE WITHOUT ME (2003)




Sarah Polley has always amazed me with her softness. She comes off soft-spoken, fragile and almost breakable. But when her young mother character (a teen mom with two young children who is still with their father, living in poverty in a trailer behind her mom's property) is diagnosed with a form of cancer that at her age is so aggressive that it ate through her system before she even started to feel sick, there is a soft click that goes off behind her eyes. Suddenly she's faced with a lifespan of a few months and a lifetime of things she'll never get to do, places she'll never get to go, beautiful children she'll never get to watch grow up. She makes a list of things that she wants to do during her remaining time alive and decides not to tell her husband or anyone else what is secretly going on with her. She then bravely attacks the small world in front of her with a voracity that is anything but soft. Choosing to have an affair just so she can understand what it feels like to have sex with and be loved by a man other than her husband, making tapes for her children to listen to over the course of the birthdays that she'll miss (up until they're 18) and finding a woman to "replace" her are all seemingly unthinkable to a person who hasn't walked in her shoes. The movie is straightforward, unforgiving, raw and amazing. And Polley's even better.








1) TERMS OF ENDEARMENT (1983)




I'm sorry, but I gotta go with the mother-daughter classic here. I was only 8 years old when it was released and my mom took me with her to go watch it. My middle sister was just a baby at the time and she wanted to get out of the house for awhile. This was often a ritual with us; my getting dragged along to watch movies that she wanted to see, using me as a movie-going partner because she isn't one of those people who can go alone. Again, I didn't understand most of the movie as a child (and giggled at the affair that Debra Winger's character has with John Lithgow's character in the film, because I didn't understand what was going on and I just thought he was a nice man to help her pay for her kids to get candy bars) and grew to appreciate it as an adult. Hell, I get choked up right now just thinking about the classic scene in which Shirley MacLaine's unforgettable character Aurora Greenway is screaming at the nurses to give her daughter the pain meds. The movie is about the bonds that mother and daughter can have, how some mothers never grow up, some never reach their full maturity and how in the end, no matter the circumstances of how we were raised, screaming at the nurses is something you would do for the one you loved.






So, that's what I've been up to. It's been a rough week for me, thinking about my own mother-daughter relationship, making a sort of peace with relatives that I've seen die from cancer, and that with every dollar earned, every baby step made toward watching Charena reach her goal, I can't bring myself to cheer too loudly. I want to... but that's a whole other reconciliation.


If you're on MySpazz, please look up Charena's mom's profile, where you can find a PayPal donation button. Even if it's just a dollar, we're almost there and a dollar is a step closer. You're helping in creating a gift of dignity, which is ultimately more timely and loving than that constant hand reaching for a cure.


Click on the picture of the two daughters to get there. (The one on the left is mine, after helping wash cars for 5 hours last Saturday. Charena is on the right, soon to be short all of that long blonde hair.)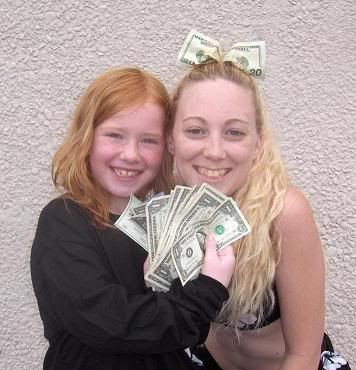 (If you don't have MySpazz, you can use the email address rrennecker@charter.net to donate directly at PayPal.)






email this column to a friend
Comment on this Column:
Sorry, you must be a member to add comments to columns.

Join or Login.
Subscribe to MatchFlick Movie Reviews through RSS
Neglected Foster Child of Hollywood
Every other Wednesday

Not-so-gentle musings from the girl who is saving room in her uterus for Tarantino's spawn.


AwesomeZara
She's awesome, who would have guessed that?


Contact
If you have a comment, question, or suggestion, you can send a message to AwesomeZara by clicking here.